Presentations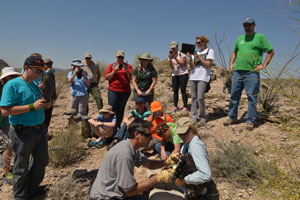 Arizona Bald Eagle Management Program
Adult Version
(.PDF)
Child Version
(.PDF)
Nesting Cycle of the Arizona Bald Eagle
(.PDF)
Monofilament Recovery Program
(.PDF)
*PowerPoint presentations are available to Educators on
CD
as well.
Brochures
Protecting an Arizona Treasure the Arizona Bald Eagle Management Program
Pilots Can Help Protect the Bald Eagle in Arizona
Pick It Up! Fishing Line Can Harm Wildlife, Monofilament Recovery Program
Videos
Bald Eagles in the Southwest documentary
Other Bald Eagle videos
Activity
Track bald eagle movements
using satellite transmitter data
Seven-part
podcast
series focused on bald eagle biology and management. Student activity worksheets and teaching aids are included.