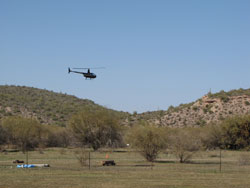 Low flying (<2,000 feet above ground level, or AGL) planes, helicopters, and other aircraft like motorized parachutes are common human activities in some bald eagle
breeding areas
in Arizona. Although low-flying aircraft currently account for about 10% of all human activity at these areas, they elicit almost 25% of the bald eagle's significant responses during a breeding season (vocalizing, restlessness, flushing from the nest or a perch, or leaving the area) (
Tables 1 and 2
). The most important laws related to Arizona's eagles are Arizona Revised Statutes Title 17, the Bald and Golden Eagle Protection Act (Eagle Act), the Migratory Bird Treaty Act, the Airborne Hunting Act, and the Lacey Act. The Eagle Act in particular contains special protections for eagles, and includes a definition of
disturbance
which means "to agitate or bother a bald or golden eagle to a degree that causes, or is likely to cause, based on the best scientific information available, 1) injury to an eagle, 2) a decrease in its productivity, by substantially interfering with normal breeding, feeding, or sheltering behavior, or 3) nest abandonment, by substantially interfering with normal breeding, feeding, or sheltering behavior."
To read more on low-flying aircraft effects, click
here
Why Avoid Bald Eagle Breeding Areas?
Aircraft that fly low within a nest area, or that flush a bald eagle from its nest or perch, could increase the potential for mid-air strikes.


Repeated disturbances may cause lower reproductive success for the eagles.


Some bald eagle nest areas are monitored during the breeding season by biologists who record human activity near the nest, including low flying aircraft.


Aircraft Identification Numbers are reported to the U.S. Fish and Wildlife Service when aircraft fly below the FAA's 2,000 foot AGL advisory and if they cause a disturbance to breeding bald eagles.


If a pilot's actions are found to have caused a negative impact to nesting success, they could be subject to legal action.
Who is Monitoring the Bald Eagle Breeding Areas?
The
Southwestern Bald Eagle Management Committee
is comprised of over 25 federal, state, and local agencies, Native American Tribes, and private organizations.The Arizona Game and Fish Department, acting on behalf of the Southwestern Bald Eagle Management Committee,
contracts individuals
to monitor bald eagle breeding areas statewide. They record all human activity within the breeding area including Low Flying Aircraft.
Bald Eagle Facts
The bald eagle population in Arizona has been increasing in recent years. There were about 60 breeding pairs statewide in 2015. This small population is concentrated along rivers, creeks, lakes, and reservoirs, where the eagles nest in trees and on cliffs. Most nests are located within one mile (often much closer) of water.


The breeding season for bald eagles in Arizona is primarily from December to June at lower elevations, along the Verde and Salt Rivers for example. At higher elevations, on the Mogollon Rim and in the White Mountains, the breeding season is delayed by 1-2 months.


Bald eagles should never be forced to leave eggs or small young (<3 weeks old) unattended in the nest.


During the few weeks before they fledge, young bald eagles may actually try to jump from the nest to get away from a low aircraft before they are capable of flying, which could lead to injury or leave them susceptible to ground-based predators like coyotes.
How Pilots Can Help
To reduce the potential for disturbance:


Avoid flying at low levels over riparian areas during the eagle breeding season. Remain 2,000 feet AGL or stay at least ½ mile away from waterways, lakes, and known bald eagle breeding areas (see map below).
Limit the amount of time spent flying along or parallel to a river.
Leave the area immediately if an adult eagle is flushed off a nest or perch.

Adhere to airspace advisories in the FAA Phoenix Aeronautical Chart


Report any harassment of a bald eagle to the USFWS Law Enforcement (480-967-7900) or Arizona Game and Fish Department's Operation Game Thief (1-800-352-0700).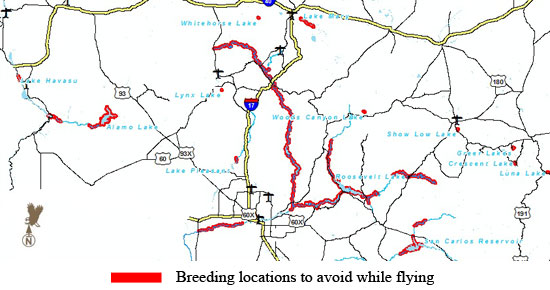 Your cooperation will help guarantee the continued existence of this unique population of nesting bald eagles in the southwest.